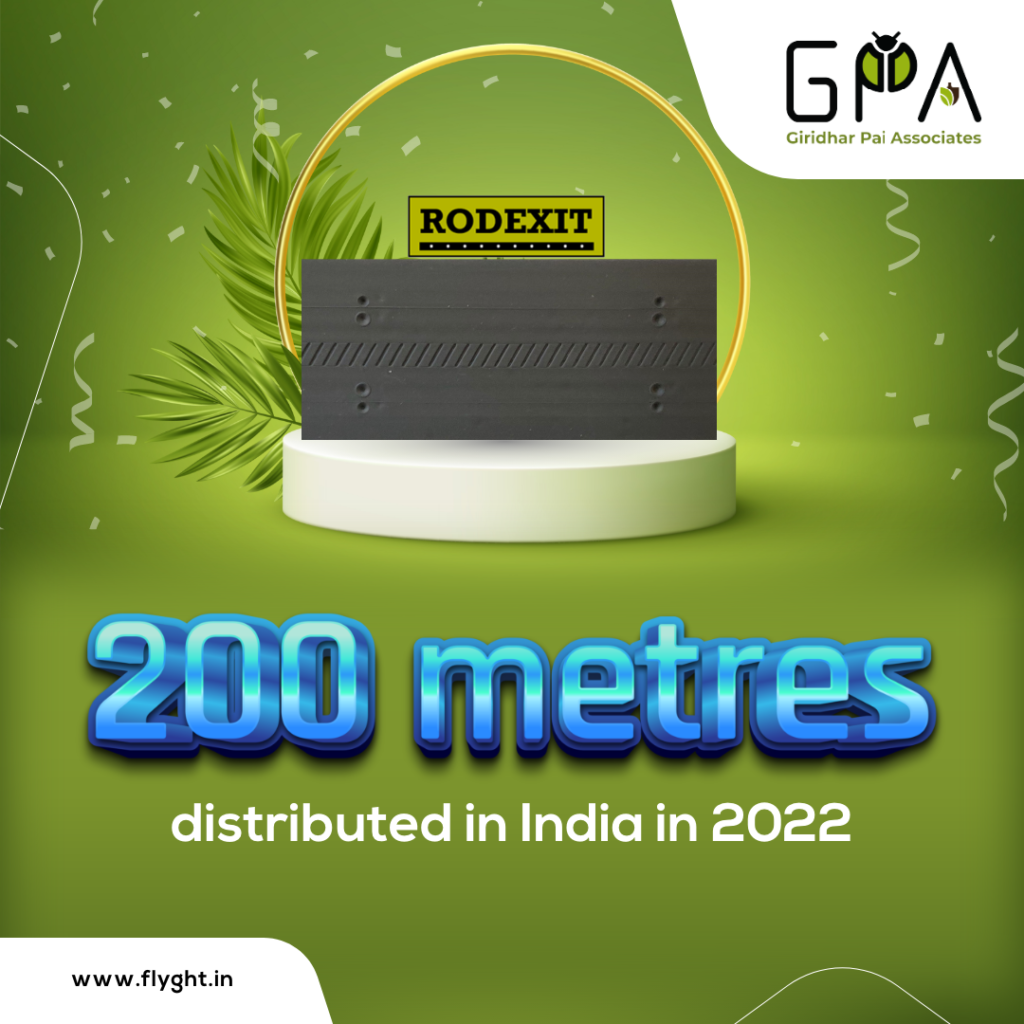 We begin 2023 by sharing the journey of our third product, the RodeXit All-In-One seal – a rodent-proofing strip.
🐭 Mice and rats no longer have unfettered entry into Indian buildings with a RodeXit rodent seal barrier! RodeXit's ten steel wires deter the toughest rodents attempting to gnaw their way into a structure. 🐁
We were very confident that the RodeXit rodent strip would change rodent management in India when we launched it in 2022 thanks to the efforts of our friend, Raja Mahendran, and the RodeXit rodent seal co-inventor Bjørn von Ryberg.
In this blog post, we are glad to share the success of an international collaboration of pest management professionals across Europe, India, and Australia to rodent-proof and secure Indian buildings against mice and rats.
In September 2021, the international business consultant Raja Mahendran based in Australia, proposed that we evaluate the potential for the RodeXit rodent-proofing strip in India.
Our discussions with Raja Mahendran soon led to our first online meeting with Raja Mahendran and RodeXit rodent seal's co-inventor, Bjorn von Ryberg, in October 2021. The RodeXit rodent seal is a product from Denmark currently available only in the United States of America and India for pest management professionals (PMPs) to securely rodent-proof buildings against rodent entry.
Bjorn von Ryberg was very receptive to our market positioning suggestion for the RodeXit rodent seal in India and helped us price it for just rupees five hundred a foot for the end-consumer.
We have retained the highly economical INR 500/foot price for the RodeXit rodent seal despite currency fluctuations and increased freight costs since we launched RodeXit in India.
Also, Indian PMPs can increase their revenue by offering a RodeXit rodent seal installation service.
As the RodeXit rodent seal is a simple product, Indian pest control technicians can quickly learn and fix it for customers, generating revenue for their pest control company.
In December 2021, we signed a distribution agreement with RodeXit North America (RNA) ApS for Giridhar Pai Associates LLP (GPAL) to become the first Asian RodeXit distributor.
As a result of GPAL's RodeXit distribution agreement with RNA ApS, India is now only the second country in the world where RodeXit is available other than the United States of America.
We ordered and received our first shipment of 200 meters of the RodeXit rodent seal in India in March 2022. We started distributing RodeXit samples among GPAL distributors and end consumers starting April 2022.
However, our progress was slow as there is no other rodent-proofing strip in India, barring the RodeXit All-In-One seal, and we had first to educate users about the concept of rodent-proofing.
Most Indian PMPs rely on trapping and poison-baiting rodents. However, with the customers not demanding humane and non-toxic rodent management solutions, there has been little incentive for rodent-proofing in India.
We widely shared RodeXit samples among our distributors, who showed them to their customers afterward. As a result, one of our distributors, Pecopp, made a short video to promote RodeXit and became the first Indian pest control operator (PCO) to sell the RodeXit rodent seal to a customer in the Indian state of Maharashtra.
Pecopp exhibited RodeXit for the first time at an Indian trade show at the Clean India Show, Greater NOIDA, from 13 to 15 July 2022.
In January 2023, Aaditya Pest Specializers Private Limited became the second Indian PCO to supply RodeXit to a customer in the Indian state of Uttar Pradesh.
A direct order for 100 m. RodeXit from a leading Indian FMCG group in January 2023 helped GPAL complete the sale of its first 200-meter RodeXit rodent seal import shipment, marking a significant milestone for rodent-proofing in India.
Thus, over ten months, starting in April 2022, GPAL finished distributing 200 meters of the RodeXit seal it imported into India in March 2022.
Food safety auditors commonly highlight the rodent entry points in the food industry where they conduct food safety audits. However, till we launched the RodeXit rodent seal in 2022, there was no simple, easy-to-use, and inexpensive rodent-proofing product in India.
RodeXit is very easy to install in most cases requiring less than an hour, which we shall soon demonstrate through RodeXit installation videos filmed in India.
As RNA ApS has sold RodeXit mainly in the United States, we don't yet have videos demonstrating how to rodent-proof doors and rolling shutters in India using the RodeXit rodent seal.
GPAL's RodeXit videos will make it easy for Indian PMPs and building owners to understand how to use the RodeXit rodent seal to deny rodent entry by the use of the RodeXit rodent seal.
With the increasing concern about using certain rodent traps and rodenticides, the need for alternative rodent management methods has never been greater.
Several Indian states have already restricted the use of glueboards for trapping mice and rats. Further, non-target species may ingest rodenticides, and large quantities of rodenticides that are not consumed by rodents contaminate soil and water, polluting them.
Sanitation is the first step in rodent management, and it must be followed by rodent entry prevention into buildings. By restricting rodent entry into buildings, building owners can reduce or eliminate the use of rodent traps. Preventing rodents also helps eliminate rodent damage to property inside buildings.
The second step to rodent management is preventing rodent entry, for which GPAL is happy to offer the "RodeXit All-In-One seal" to rodent-proof buildings against mice and rats.
As you read above, GPAL has initiated India's rodent-proofing revolution over the past year with the RodeXit rodent seal!
We are confident that we shall soon complete the distribution of our second consignment of 200 meters of the RodeXit seal in India that arrived in February 2023.
Till recently, there was only one other rodent-proofing solution in India, but that option is no longer available. Also, that product range had multiple options and components, making it difficult for the user to understand and implement that rodent-proofing method.
With the advent of the RodeXit rodent seal, Indian customers finally have an inexpensive, easy-to-use, fast-installing, and effective rodent-proofing solution.
When customers choose the RodeXit rodent seal, they can fix it on a door or a rolling shutter without any specialized tools other than a metal cutter, measuring tape screws and washers, a screwdriver, and in some cases, a Stanley knife.
GPAL's planned three-video series on the RodeXit rodent seal will demonstrate the product, its benefits, and its use to an Indian audience in 2023.
We are confident that Indian PMPs will make the RodeXit rodent seal a key component of their rodent management tool kit in the coming years.