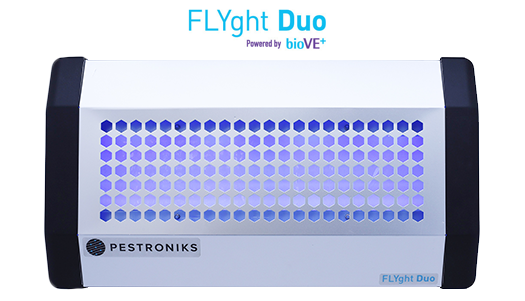 We are happy to present the next #FLYght trap model: the FLYght Duo. In its sturdy aluminum shell, the light FLYght Duo weighs just 1.75 kg. & continues the trend of sleek, robust, & low energy consuming ILTs.
Pestroniks has launched FLYght Duo across Asia and is introducing that ILT at other continents during 2021. Businesses affected by the COVID-19 pandemic now have an opportunity to optimize their energy costs by switching to the FLYght range.
Compared to two and three fluorescent tube UV traps, FLYght saves users 70-80% of the power that such traps consume. The daily savings in power costs offset the purchase price of the FLYght trap.
The simple design of FLYght Duo lets a user handle it with one hand even while standing on a ladder, adding to user safety. We look forward to supplying FLYght Duo to Indian users after successfully launching FLYght One in July 2020.
Being inherently glass-free, FLYght UV LEDs last 50,000 hours and do not need a replacement for many years. It is also mercury-free and thus an ideal choice in meeting #FoodSafety & #EnvironmentalManagementSystem norms. FLYght traps have a 3-year warranty on the electrical components.
Contact us to know more about the #FLYghtDuo.