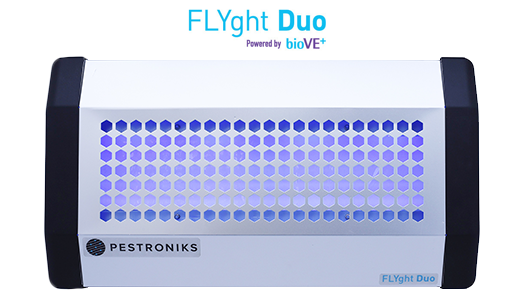 Lightweight: At just 1.75 kg., FLYght Duo is light weight, easy to carry around, install and maintain.
Long lasting LEDs: FLYght Duo's UV-LEDs last 50,000 hours and help you to avoid light replacement for 5 years.
Enhanced attraction: FLYght Duo's bio-Visual Enhancer (VE)+ coating works in tandem with eight UV LEDs to attract more flies than conventional Insect Light Traps (ILTs).
Discreetly hidden glue boards: FLYght Duo's two glue boards are invisible from outside making the trap look like a light fixture.
Ease of service: You can open FLYght Duo with one hand while standing on a ladder & using your other hand to support yourself.
Power cost savings: FLYght Duo consumes 28% of two UV fluorescent tube ILTs, saving electricity costs for fly monitoring.
Maintenance free finish: FLYght Duo's aluminum body needs no painting to remain shiny and attractive for years.
Compact: FLYght Duo's UV LEDs help accommodate all parts in a compact frame.
Glass-free: Being glass-free, FLYght Duo is ideal for food and pharmaceutical industries.
Unique glue-board placement: As glue boards do not face the UV LEDs, their glue lasts more, remaining effective longer to trap flies.
Sleek yet sturdy: FLYght Duo's sleek design benefit from clever component placement inside a sturdy aluminum shell.
Constant UV output: FLYght Duo's UV LEDs maintain the same UV-A intensity throughout their lifespan.