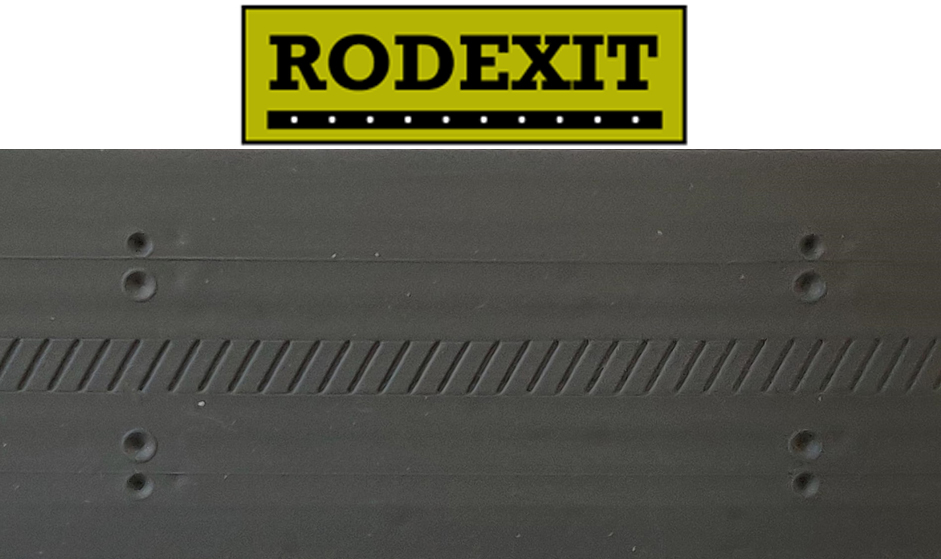 We are happy to announce that GPAL is now the sole authorized distributor of Denmark's RodeXit ApS, makers of the famous, patented, RodeXit rodent proofing strip.
We shall soon be sharing RodeXit proofing samples with interested customers from February 2022 and supplying the product from April 2022.
RodeXit is a Santoprene proofing strip containing ten steel wires that deter rodents from chewing through it like most rodent proofing materials that people commonly use.
Santoprene is a soft and versatile thermoplastic vulcanizate (TPV) in the thermoplastic elastomer (TPE) family.
As RodeXit is versatile, you can seal gaps below doors or shutters and vertical (or astragal) gaps between glass doors.
The proof of RodeXit's efficacy is the successful result of the Danish Technological Institute's 'rat attack test' in which rats could not damage or push up the RodeXit test strip for a week.
RodeXit is a good option for protection against mice, rats, and bandicoots. Proofing gaps with RodeXit also helps prevent the entry of other pests, an incidental benefit.
RodeXit is easy to handle and install with tin snips and Stanley knives. The screw markings on the product guide the user to fix it fast and complete the process in just ten minutes in most cases. Quick installation is a key RodeXit feature, and the product lasts for ten years from installation.
RodeXit is suitable for closing gaps up to 50 mm. for which you would use two overlapping strips each of 35 mm. width. Therefore, you use two overlapping layers of RodeXit for a higher degree of rodent protection. RodeXit is versatile, and you can fix it on wooden or metal strips (such as carpet trims) to maintain aesthetics while rodent-proofing a gap.
We supply RodeXit in 25 m. lengths in flat boxes, which are easy to carry even in a backpack with the minimal tools you need to fix it.
You are better off preventing rodent entry into your home or business as the consequences of rodent presence include contamination, damage, bad odor, and spread of diseases. An easier option to trapping or baiting rodents is presenting their entry using RodeXit proofing strips.
We at GPAL are proud to launch our third international brand at the start of our third year by making RodeXit available to Indian customers. We have planned an inexpensive rate per foot linear length of the RodeXit proofing strip to make it popular across India.
With RodeXit, rodent management in India now has a new ally – a Santoprene proofing strip with ten stainless steel wires that deters the toughest rodent from entering a place.
Our RodeXit proofing strip product page has full details and answers to your questions.