As the world moves to a net-zero regime where human activity does not add net carbon dioxide to the atmosphere, every aspect of life will change, including business practices and services.
In pest management, we at Pestroniks foresee a major shift from conventional UV fluorescent tube ILTs to UV LED ILTs as trap manufacturers comply with national government regulations for phase-out fluorescent tubes.
While Singapore is looking to stop the usage of non-LED light fixtures after 2022, in India, the central and state governments incentivized consumers to switch to LEDs for power savings.
FLYght traps don't just help users follow the rules which do not allow fluorescent tubes. Still, their LEDs generate enormous savings in operating power costs compared to regular fluorescent tube traps.
Look at the 71% savings you can generate from FLYght traps over two-tube traps or 81% savings over three-tube traps.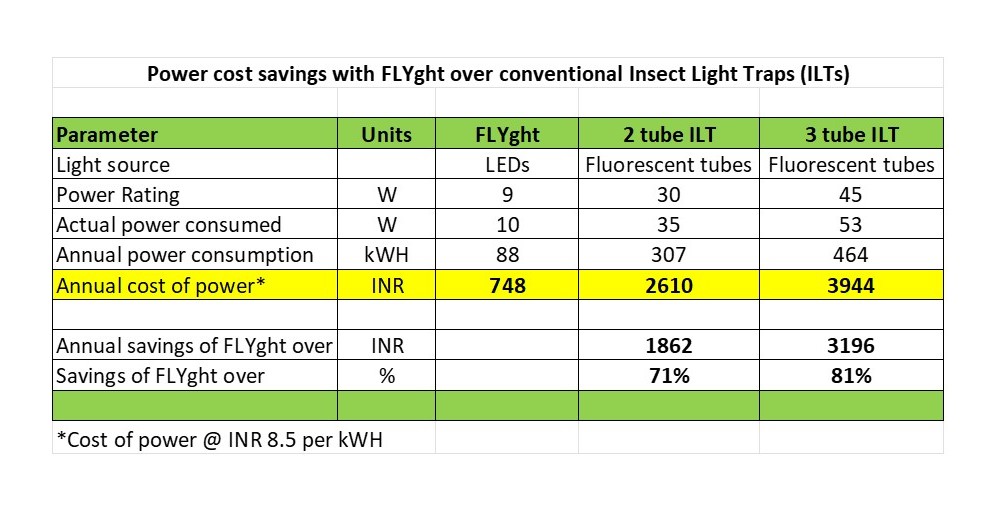 When estimating power consumption, we use the actual power consumed and not just the power rating (for example, 8W LEDs consume 9W power and 45-W tubes consume 53W). However, we have assumed a cost per kWh of energy in Indian rupees, which you can interchange with any currency for the same results.
Indian companies that follow the April to March financial year cycle have started budgeting for their purchase of FLYght traps. Our customers benefit from power savings and the freedom to replace fluorescent tubes annually as FLYght's UV LEDs do not need users to replace them over 50,000 hours.
We are currently busy assisting our customers in planning their 2022-23 budgets in which they invest in FLYght One, and Duo traps to help them save on fly monitoring costs.